<! –– End of Headder -->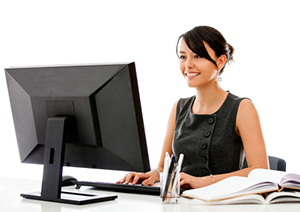 The best source for a reliable medical coding salary range is the credentialing organization itself. The Certified Coding Specialist (CCS) through AHIMA and the Certified Professional Coder (CPC), through AAPC are often the coding credentials in highest regard by employers. If you are not a member of those organizations, you may not be able to access those statistics. See below for more information about what factors combine to allow one coding specialist to make more than another.
The credentials of a medical coding professional, a Certified Coding Specialist (CCS) or a Certified Professional Coder (CPC), increases the potential for greater salary. Income potential for professional coders also depends on the size of the hospital or clinic where they work, and amount of high-quality medical coding experience. It's possible to have years of experience only doing one specialty, but the best medical coding professionals are those who have the ability to code both inpatient and outpatient procedures for all specialties.
The Andrews School medical coding program covers all of those, which is only one advantage over most medical coding programs. The benefit to our graduates is huge when it comes time to sit for certification exams or coding exams given by employers.
One thing I've learned is, credentials mean a great deal when it comes to medical coding jobs and career advancement. If you apply for a job and don't have credentials, you have to hope that the employer likes the school you attended more than a coder with professional credentials, because you will be seen as a 'graduate' applicant. If you have professional credentials, though, employers will see you as a professional. It's true that if they have 10 job openings and 10 very pleasant, experienced, credentialed medical coders, those 10 will probably be hired. If one of them is not so pleasant or just does poorly on the interview, the employer may decide to take a look at other applicants. The next in line to be considered for the medical coding job openings will be "credentialed, without experience."
Professional coding credentials are going to be more important than ever with all the upcoming healthcare regulations. Credentials mean accountability. It means that this applicant had the skills, confidence, and motivation to pass a grueling certification exam. They aren't seen as "graduate applicants", but professionals with the highest level of coding credentials. That's a good position to be in.
We recommend that Andrews School graduates get both the outpatient certification through AAPC, usually in Module 3 of the 4-module course, and then the CCS through AHIMA, immediately after Module 4, which has a focus on CCS preparation.
The Andrews School medical coding program includes ICD-10, the ICD-10-CM/PCS classification systems, as well as CPT and HCPCS.
The AHIMA web site has a 2010 salary study sample which gives salaries by job setting, geographic region, salary by bed count (if you work in a hospital), and a number of other options. The one that most of us are concerned with though is the range for Certified Coding Specialists (CCS), because that's one of the two tests Andrews School graduates tend to take right out of school. Their average for 2010 was $60,919, up from $57,872 in 2008. That's a nice increase. Keep in mind that it's an average. Some medical coders will make more and some less. Experience will have a lot to do with where you are on that chart.
According to a study on the AAPC web site, the 2012 average salary is $47,870, "based on responses" according to the article. This includes credentialed and non-credentialed members; but, when broken down by credential, the averages look like this:
Certified Professional Coder (CPC) – $47,796 (up nearly $900 from 2011)
If you plan to have a career in Medical Coding, do it right the first time so you don't have to try to get by with or try to 'fix' an inadequate coding education. Get the best medical coding training available and sit for those credentials exams as soon as you have completed the appropriate sections of our medical coding course.
Some of our students have been told that they can't possibly be ready to take those exams until they have several years of experience. Most courses don't teach to the level required, but Andrews does. Let's talk about what to do if you have taken a course that didn't teach to that level.
Your instructor may have told you to go get a job, work for a few years, and then you can sit for the exam. Well, it isn't that easy to get your first coding job if you are a graduate with no credentials and no on-the-job coding experience. For the sake of the argument, let's say that you got very lucky and someone hired you. You are put at a desk doing dermatology coding. Three years later it's time for you to take that exam. You have the three years of experience, right? The only problem is, all you have experience coding is dermatology. Not only that, but you've now forgotten most of what you learned in coding school. So, you weren't properly prepared in that "Introduction to Coding" course you took 3 years ago and couldn't sit for the exam then. You have now forgotten most of what you learned because you aren't using it. All you really know is one specialty, and you won't be able to upgrade your career until you get your coding credentials. What do you do? Your choices are to start all over or continue in a lower-level coding job with little to no opportunity for advancement.
It's just better to do it right the first time. Get a coding education that is designed to prepare you both for the CPC and the CCS. Take those exams as soon as you've finished the material. You'll have better employment options now and for the rest of your career as a coding professional.
We hope you'll get your coding career started out right, with The Andrews School. This is a great time to become a medical coder. Call us at 405-721-3560 or write linda@andrewsschool.com if you prefer. <! –– Start of footer -->