<! –– End of Headder -->

Become a Certified Coding Specialist (CCS) or Certified Professional Coder (CPC). Start your career training as a medical coder today.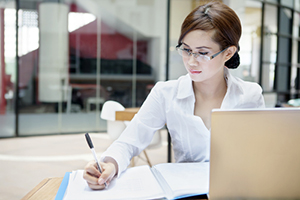 Medical coding may just be the best medical office career out there. The Andrews School medical coding program is a great way to get started in a career as a medical coder. The Andrews School Medical Coding program includes training in ICD-10-CM/PCS classification systems as well as CPT and HCPCS.
If I were to plan out what I believe is an ideal career path, I would start with the best medical coding training, which of course I believe is from The Andrews School program in Medical Coding. The CPC through AAPC would come next, then the CCS through AHIMA. I might advance further into a management position at some time, or just continue to advance using and perfecting those medical coding skills, maybe doing some medical coding consulting or working as a coding auditor. That's only one example out of many possibilities for a career plan for a medical coder. There are seemingly endless possibilities.
I don't think there has ever been a better time to become a medical coder. I'm constantly watching the different medical office and medical administrative career options. Medical coding has always been important, but now there is more coding to be done and fewer coders to do it. Medical coding is a great choice for a career! Many of our Andrews graduates are doing medical coding from home. That's just an added benefit if it's something you would like to do.
Serious medical coding students want one thing. They want to learn medical coding at a high level of expertise, high enough to pass professional coding certification exams, high enough to pass employer coding tests. The Andrews School is considered by many to be the best online medical coding school. Our graduates do very well on those difficult credentials exams. Credentials mean everything for a medical coding career. Our program prepares students to successfully sit for the CCS exam (AHIMA) as well as the CPC (AAPC).
Professional-level books and materials are all included in the cost of the course.
This is a very practical, no-nonsense course for serious students who want excellent results. Our program is appropriate for both those with or without previous medical background or education.
One of the unique training techniques our instructors use is having the students 'defend' their coding choices. This is a skill they will require on the job. It won't be a new idea to our graduates because they will be comfortable explaining why they chose certain codes over others. Students not only know if they have coded an exercise correctly, but will also know why, or why not.
We would be happy to help you become a professional certified medical coder.
Medical code books, medical coding textbooks, and other materials for the medical coding program are included in the cost of the course.
Call or e-mail us today for more information about medical coding as a career. 405-721-3560. linda@andrewsschool.com
When you write or call, let us know how you heard about us. We'd like to know if you were referred by a medical coding employer, one of our successful graduates, or an online search.