<! –– End of Headder -->

If you are considering a medical billing career, you are most likely searching for information about the outlook for medical billing careers as compared to other jobs in the healthcare industry. You may have heard that a job in billing and coding is a good career choice with all the changes in health insurance memberships. Before you enroll in a medical billing course, you want to learn all you can about the difference between the various medical billing schools so you can make the best choice for your own circumstances. You'll also want to know the many variations of "medical billing" job descriptions. A job doing medical billing in a hospital is completely different than one in a doctor's office or clinic.

Recent educational studies have shown that many college students are getting degree after degree, with no practical job application after graduation.

You may be just starting out or, in fact, you may have finished college, got your degree(s), now you need a job. The college or colleges you attended may have given you a great education, but it may also have been so academic, lots of facts and knowledge, that now you have no practical marketable skills. Now is the time you just want practical career or vocational training so you can get a job, start a career, and make some money. You may find that some of what you've learned in your past educational experience will be helpful over time. Education is never wasted.

You want to know how much training costs, how long it takes, whether path to certification will lead to better healthcare industry jobs with higher salaries. You'll want to know that the program you enroll in will teach you what you need to know to pass those certification exams, leading to your main career objective, a good job with the potential for increased salaries as you gain experience.

Your career objective is simple then. The goal is to find the best online medical billing school, one that teaches medical billing using electronic claim filing software similar to that used by medical billing services, hospitals, and clinics.

Medical billing services and other healthcare employers who hire medical billers are discovering the value of hiring Andrews medical billing graduates. Andrews graduates have impressive medical billing skills. They also are familiar with healthcare insurance guidelines that help them do the job the way the employer wants it done. That means better jobs and more opportunity for advancement for graduates of The Andrews School online training program for medical billers.

What is Medical Billing? What does a Medical Biller do? We'll describe the job duties of a medical billing specialist vs. a medical coding biller, and why you may want to consider training for a medical billing certification.

Medical Billing is a high-energy job with a variety of interesting and rewarding duties. Medical billers work with physicians and other members of the medical office team as well as insurance claim representatives and Medicare office claims professionals. You might work for one of the medical billing services or practice management services that specialize in health care billing.

Medical billing can also be financially rewarding. It depends on your level of skills and the jobs available in your area. If there are plenty of hospitals and clinics, you will have greater job potential.

As part of your medical billing duties, you will talk with patients and insurance companies regarding claims. The medical biller actually has the ability to make the patient's life easier by making the medical billing process go smoothly, an important responsibility we all can appreciate.

Medical billing salaries range from minimum wages to very impressive medical billing consultant fees. The key is in having a solid medical billing education, excellent training as a medical biller, so you will be able to choose from the best job opportunities. Our course provides the training you need. You can go as far with your medical billing career as your motivation takes you.

We'll give you a detailed job description so you'll know if medical billing is the right career choice for your particular circumstances. We'll talk about medical billing salaries as compared to other medical office related careers, including medical coding, a career which is frequently done from home.

Many people lump medical billing and coding careers together, but we see them as two separate medical careers. We'll tell you why. We'll also talk about medical billing course cost and certification. See our medical coding section to find out more about how medical coding and billing fit together, but are separate jobs.

We'll tell you how you can find the best medical billing school and how much training will cost to become a medical biller. Most people want to know if you can do medical billing from home.

Whether billing duties of medical bill processing and filing medical insurance claims are part of your job as a medical administrative assistant, medical office secretary, or your main responsibility as a medical billing clerk or Certified Medical Biller, one of the most relevant job duties in the healthcare field is that of Medical Billing and Reimbursement. Everyone seems to be talking about medical office claims these days because of the intense interest in medical health insurance. Healthcare is, as usual, top of the list of the best jobs. Medical billing is an excellent way to get started in your career in healthcare.

Often people think about medical billing as just writing down how much the exam costs, sending a bill, and hoping to be paid. Common sense tells us that it's more complicated than that type of simple data entry if the doctor wants to be paid appropriately and in a timely manner. Other people lump medical billing and coding together as one entity. We see them as separate career tracks. While some medical billers do some medical coding, those are not usually medical coding jobs as professional or certified coding specialists. Certified Coding Specialists (CCS) rarely do the medical billing duties in the healthcare office.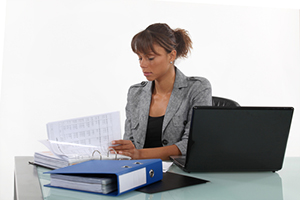 While the basic skills are the same, the way the job is done, the techniques and approach to the specific duties, and the "style" of those performing the job varies from office to office. The atmosphere and "mood" of the billing section very much depends on whether those doing the billing appreciate the importance of their work.
The success of the entire medical office depends on the skills of the Medical Biller. If doctors don't get paid for what they do, they go out of business just like anyone else.
While Medical Billing fundamentally deals with facts and numbers, the Medical Biller still has a good deal of interaction with others, helping to make it a rewarding and enjoyable job. The Medical Biller has the best of both worlds, the ability to work independently and the opportunity to enjoy other members of the medical office team.
A Medical Billing Clerk in a small doctor's office may do everything from registering new patients, collecting insurance information, calling insurance companies to verify coverage, collecting co-pay amounts directly from the patient, crediting insurance payments, billing the patient for the remaining balance, and starting the collection process for those who don't pay.
A Medical Billing Clerk in a hospital, larger clinic, group medical practice, or a medical practice management company may specialize in preparing and filing insurance forms possibly even for just specific insurance groups, following up with those insurers if a claim is denied or delayed, crediting insurance and/or patient payments, and creating weekly or monthly reports to show the results of the billing process.
Medical Billers also work for the insurance companies and for companies called clearinghouses that act as middlemen between the healthcare provider and the insurers. They work to verify that all the required information is present in the claim and that the medical services being billed on the insurance claim are supported by the patient's medical record so that the insurance companies are making correct payments without overpaying. As a graduate of our Medical Billing course, we want you to be the 'go-to' person in your office, the person who knows the answer or how to find it quickly.
Enroll in the best online medical billing school available. Andrews medical billing course provides certified instructors and the best of medical billing training materials. You'll learn the skills. You'll also learn about the proper way to process claims and bill insurance companies for best results, so that your employers, hospitals, clinics, and/or physicians, will get paid for what they do.
Most medical billing schools teach only an introduction to medical billing. Ours includes skills you can use to pass medical billing certification exams. You can become a medical billing specialist and start your career in months. Complete the course in 4 months. You can then take your certification exam. The cost is $900, which includes all medical billing books and materials for the medical billing course, resume preparation, and job placement assistance. A no-interest payment plan is available.
Call us at 405-721-3555 now for more information about medical billing. If you prefer, write linda@andrewsschool.com with your questions about getting started toward your career in medical billing.
When you write or call, let us know how you heard about us. We'd like to know if you were referred by a medical billing employer, one of our successful graduates, or an online search. <! –– Start of footer -->